On Monday 28th March I flew, along with a planeload of coughing and sniffling Australians, to Hawaii. Luckily, I also was coughing and sniffling, because if you weren't sick before getting on that plane you surely would have been when you got off.
It's the first time I've flown to the US and so the first time I've experienced the same day twice. My two Monday's were equally disastrous. Both involving almost missing flights – not due to my own poor time management, but to a delayed flight to Sydney and then the collapse of the Honolulu Airport computer system. Finally, exhausted I arrive on Big Island and then through lunar lava landscape, to Kona.
For me this was a 'bucket list' event. I have always wanted to go and see what was happening on the world family therapy stage. I wasn't disappointed and came home with lots to think about. The first was adjusting to the venue. The Kona Hilton was beyond belief. It was so huge there was a train service. Luckily the conference was close to the entrance and easy to find.  Once inside the conference centre, it was like any other,  so quickly it became all about the presentations.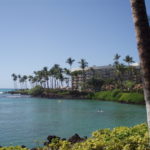 It was exciting to hear so many papers from different countries. All sharing their research about the importance of family relationships. Whether it was: bullying, couples, sibling relationships, abuse, ADHD, racial discrimination – all more or less reached the same conclusions. The way parents manage life, and their relationship with their context are important variables. So, given it seems for this evidence based world there is mountains of evidence to prove family relationships are important, how come family therapy isn't the number one treatment of choice for everything from trauma to racial discrimination?
I've come home with the belief that evidence based practice is only valid if it has a marketing arm to aggressively promote it. Unfortunately, I suspect that most people who define themselves as family therapists are interested in clinical practise and so not interested in political/power lobbying. I would also add that we see evidence of family therapy working most days and so are less inclined to worry about proving it to others.
With this realisation I have become clearer about my frustration with conferences and professional development that are dominated by academics presenting their current research. Whilst this is often very interesting, I yearn for the playing with ideas. I think I have a vague memory of this, once upon a time. being very much present in both education and professional development.
Luckily, there were a few papers that did play with ideas and aspects of everyday clinical practise. Both Keynotes –  Dr Takeshi Tamura from Japan gave us a lovely snapshot of some of the dilemmas facing Japanese families. And Karl Tomm from Canada,  talked about his own theoretical influences and how they translated into the counselling room. I was absolutely delighted when he put up two of his major influences as Gregory Bateson and Humberto Maturana. Very validating for me!
There were three papers from Australia and they all, I'm pleased to say, included playing with ideas. And I'm even more pleased to say – two were by past students.
David Allen and Rebecca Codrington, from NSW were the first to present their paper titled Using Relationship Counselling to Address Trauma. They raised the question about including 'the other' to witness the trauma work of their partner. In a sense reclassifying trauma within the individual as a relationship issue
Then Lucinda Willshire from Melbourne presented her paper on Male Breadwinners, Trailing Wives and Third Culture Kids: Expat Families What Lies Beneath. This paper was built on Lucinda's personal experience of living the 'expats life' for more than 25 years, expelling quite a few myths about expat lifestyle and the impact on families when cultural identity starts to get muddled.
And finally, on the last morning Karen Walters presented her paper A Small Foster Care Program Making a Big Difference to Kids in Care. This paper drew attention to the actual 'doing' of the attachment work. Through a case example Karen gave lots of ideas like brushing a prickly adolescent's hair, in a regular rhythmic way. She highlighted the importance of keeping both the carers and workers regulated and responsive. All the carers in this program participate in trauma training, and most of the workers have family therapy training. Karen reminded us of the simplicity, of keeping an eye to the quality of relationship – something that is so often lost.
Which takes me to Big Island itself. Living with volcanoes is a phenomenon that was different to anything I have experienced. Impermanence is part of everyday life. The volcanoes dictate and people live around them. There's no trying to tame or control nature – such an embedded Australian mindset it was almost impossible to hear that gentle resignation that towns will disappear, and roads will no longer be accessible. The volcanoes and lava flows dominate.  There was something very liberating about this.